We deboarded the ship on Wednesday in Whittier, got onto a bus, and drove the almost-an-hour to Anchorage. It was one of the most amazing drives I've ever been on. There were snow-capped (and even some glacier-capped) mountains everywhere; the scenery was not to be beat.
Unfortunately, I didn't get any pictures from the drive because it was pouring rain the entire time. Do you guys want pictures with fatty raindrops in them? I don't, either.
Instead, you can have pictures of my breakfast from Harley's. This place is owned by an original Little Rascals cast member, makes sourdough pancakes, serves reindeer sausage, and MAKES THEIR OWN SYRUP. Can you say "bomb diggity?" (Probably, but please don't. Only I'm allowed to be that white.)
Since it was our last day in Alaska, we rented a car for the day so we could drive around Anchorage and get a feel for the city. We spent a good chunk of the afternoon just walking around downtown, checking out touristy stores that make fun of Texas and glorify moose poop.
But just to be fair, downtown also has public parks: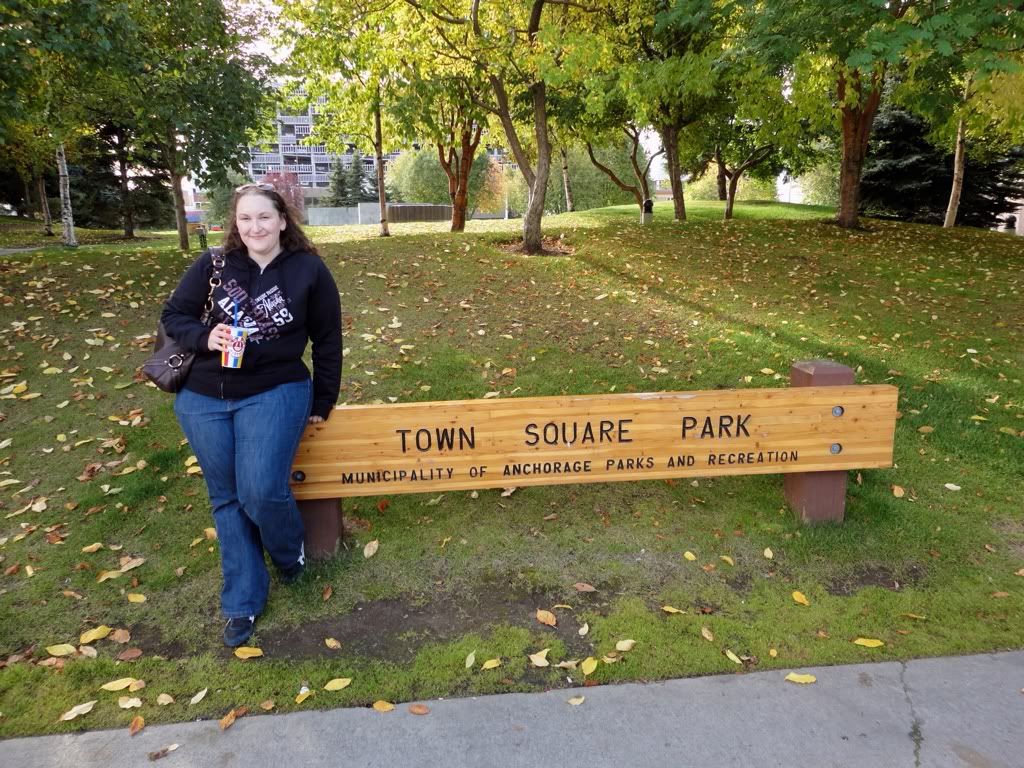 … as well as a museum that Dan BEGGED me not to make him tour. But I bought tickets anyway. BECAUSE I LOVE INUKSHUKS. (And giant abstract sculptures.)
That evening, we met up with Ashley (of guest posting fame), who now accidentally lives in Alaska after a few years of accidentally living in Olympia. Are you seeing a theme here?
We've been intarweb friends for … how long now? A year-ish? Maybe? I've lost track. In any case, we had obviously never met in person, because she lives IN ALASKA, so it was nice to finally get to be face to face with someone whose daily happenings I keep up with via her blog.
She took us to this awesome happy hour spot where I got plastered on cranberry mojitos and she and Dan debated the merits of women's reproductive rights. (I LOVE WHEN OTHER WOMEN TALK TO HIM ABOUT THIS. I think he's started to tune me out because I'm constantly nagging him about WHAT IF OUR KIDS NEED TO HAVE ABORTIONS.)
(Don't judge me. Have you guys seen 16 & Pregnant? That's a legitimate concern.)
After happy hour, we went to Humpy's, where we continued drinking and enjoyed their TERRIBLE service. But you guys, it was beautiful out, and we got to sit on the outdoor patio, IN ALASKA. Tell me that's not magical.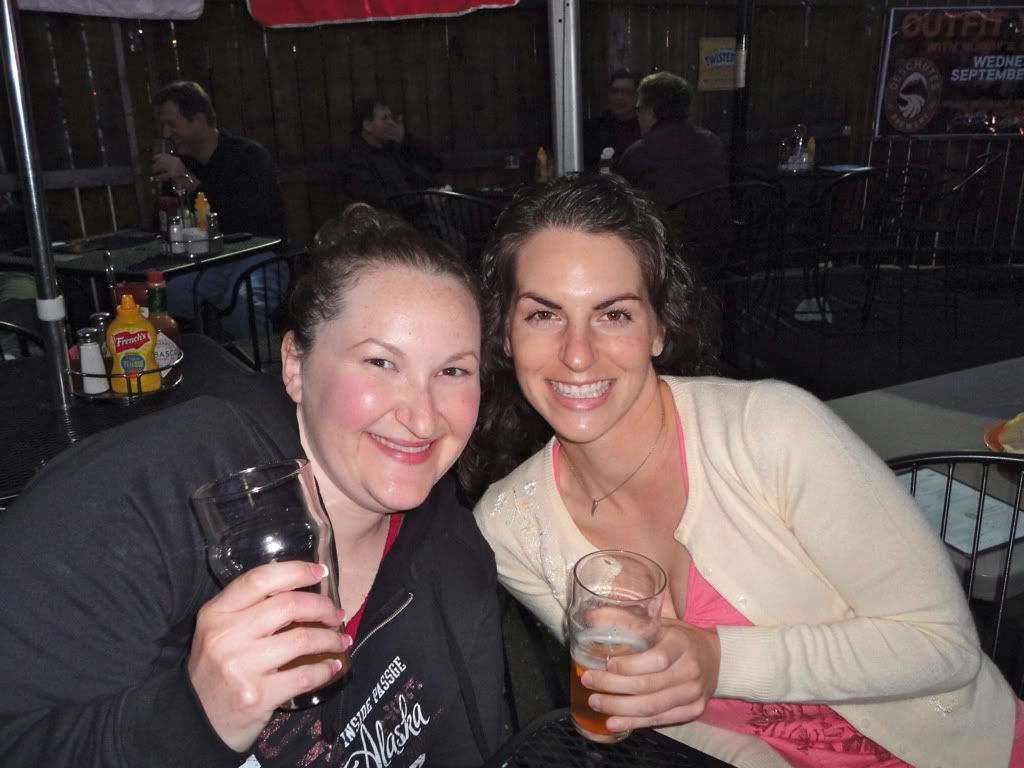 We went back to Ashley's house after dinner, where we totally crashed Adam's quiet night in by breaking out the champagne and riling up the dogs.
Adam, I'm sorry. I hope that watching Oly molest me made up for you having to turn off Top Shot.