This post was inspired by this cartoon, which I found today on Facebook: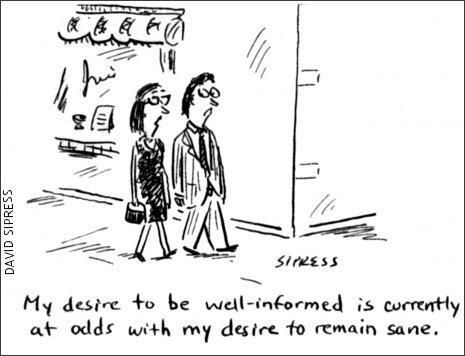 I am at a loss. I think I haven't been writing very much because lately, I just feel like I am without words. The utter insanity that goes on in this world is beyond my comprehension. I just don't know what to make of it.
Dan and I had a fight last week that lasted for what seemed like forever. All of our fights are generally sparked by the day-to-day goings-on of our marriage, but, like all fights, they seem to have a basis in bigger issues. For us, the big issue is abortion.
It seems irrational, right? To fight about something with your partner that has no bearing on your relationship? But the voices against women's rights have grown so loud lately that it's hard not to let them seep into your brain, and into your daily life. It also doesn't help that Dan and I have drastically different views on the subject.
Dan truly believes that abortion is murder. He believes that life begins at conception and that the only instance where abortion could even be considered is in an instance where the mother's life is being immediately threatened by continuing the pregnancy. He believes that abortion should be neither legalized nor banned on a national level, and should be left to the states to decide. However, my understanding of his personal opinion (and correct me if I'm wrong, Dan, because I know you're reading this) is that abortion should be illegal.
My opinion has a significant gray area. I believe life begins somewhere around month six of a woman's pregnancy, when the fetus / baby (depending on your terminology of choice) is viable outside the womb, with or without medical assistance. I would probably never have an abortion anyway (especially now that I'm married and could feasibly raise a child), but as far as I'm concerned, any time after viability is off-limits.
For me.
And that's where we differ.
My opinion is just that – my opinion. I still believe that abortion should be safe and legal and a viable option for anyone who wants one. And if that means three weeks or twelve weeks or twenty-eight weeks into a woman's pregnancy, that's her choice, not mine. As uncomfortable as it may make me, it is not my body, and it is not my future, and it is not my decision.
Dan and I got into it a few weeks ago, after he pulled the "adoption is an option" card and I argued that pregnancy is difficult enough, and then you're going to make that woman give her child away? His response annoyed me beyond anything else he could have possibly said. He told me that pregnancy was just as hard for men, because they have to be the providers of foot rubs and pickles and deal with all the womanly crazies that go on for nine months (all of which, I might add, could have been avoided had you given this woman the option to terminate).
Oh, yes. Very difficult.
But rather than laughing at him outright, which is what I wanted to do, I made a point he couldn't – or at least didn't – match.
"Even if pregnancy is as hard for men as it is for women," I said (hopefully without giving away how ridiculous I thought that statement was), "You have a choice to be there. You choose to stay with your partner, you choose to support her through that pregnancy, and you choose to be there for that child once it's born. All women are asking for is the same choice."
All women are asking for is the same choice. The same choice that men have, to have a family at twenty-one or to wait until they're older. To deal with pregnancy and childbirth by accident or to actively plan for it and want it. To potentially be settled in their careers and committed to a partner they love before they bring a child into this world. All women are asking for are the same rights that men have now, and have always enjoyed.
All we want is equality.