… is Jewish Christmas where I come from. Which means we take our loud, inappropriate, drunk family out to Chinese food. And then order the entire menu.
But that comes later.
We got to my parents' house early in the afternoon so Dan and my dad could watch football while my mom and I made latkes to make up for all the latkes we didn't get on Friday night. Making latkes is a laborious ordeal, and not something you do often, partially because they're holiday specific, and partially because they stink up your entire world.
(I'm not exaggerating. It took me two days and three washes to get the smell of fried potatoes and onions out of my hair.)
But it was totally worth it, because for one, it made my mom really happy.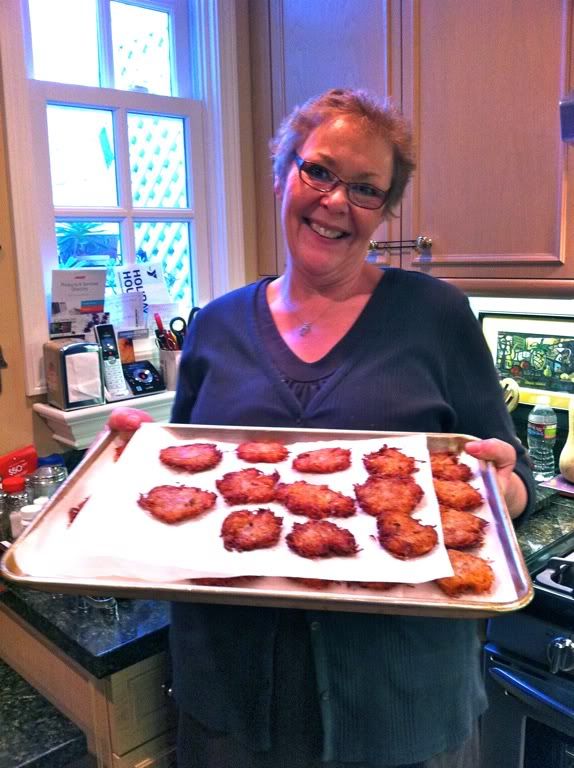 And for two, I had the pleasure of watching Dan eat latkes for the first time ever. He ate them with his hands, but marriage is about letting the little things slide, right?
Several hours later, after I was sufficiently drunk on latkes (and wine and vanilla vodka), we ventured down the street to Golden Rice Bowl, formerly known as Beijing on Irving, affectionately known as "Lou's." This place has been our Chinese restaurant of choice since I was three or four years old, and actually used to be owned by the family of my orthodontist's assistant. (Six degrees of San Francisco, anyone?) Their family sold the restaurant a few years ago, but the new ownership retained Lou, their star waiter, who knows my entire family by name.
Jewish Christmas dinner was, as always, fantastic. Lou is a champion of multitasking, somehow managing to satiate all the needs and cravings of our massive group of fourteen while also handling nine other tables of three or more people.
What can I say? The dude is a (very underpaid) saint.
The only qualm I had with the evening was that there were TOO MANY PEOPLE at the restaurant. Remember when Chinese food and movie theaters on Christmas used to be just for Jews? Apparently, those days are long gone. And Golden Rice Bowl was filled to the brim with people in Santa hats. Many of whom were dirty San Francisco hipster transplants who probably couldn't afford the plane ticket back to Ohio (or wherever the hell they're from) for Christmas.
Yelp needs to stop making the things I love so popular.
But even with the influx of hipsters and Santa hats, Jewish Christmas was a resounding success. I was so filled with pot stickers and general's chicken and Szechuan eggplant that Dan practically had to roll me out of the restaurant at the end of the night. Because this is how Jews do:
They came to kill us. We prevailed. Let's eat.