My goal in planning our wedding is to try and involve Dan as much as possible in the process. After all, this day is supposed to be one of the most important in both of our lives, and it should be representative of both of our interests.
So I made the decision to expand our color palette. Why? Because our original colors of orange and black only incorporated my love of the San Francisco Giants, and I also wanted to involve Dan's [sometimes, when they're winning] love for the San Francisco 49ers. At first I thought the colors wouldn't mix, but then I realized that orange, red, and gold make for a perfect fall foliage theme – ideal for a September wedding. And black? That goes with anything.
The only issue was the invitations. I spent hours scouring the internet yesterday, trying to find invitations that incorporated all four colors, that were in our price range, and that were actually cute.
For future reference: There's basically no such thing.
But I went hunting anyway, and sent my finds to Dan for his Future Husbandly Approval.
For future reference: There's basically no such thing as that, either.
There was the beautiful woodsy invite with a pair of birds flying off that Dan said looked like a hunting invitation. "Can we add a guy with a shotgun on the bottom?" He asked me. Ughhh …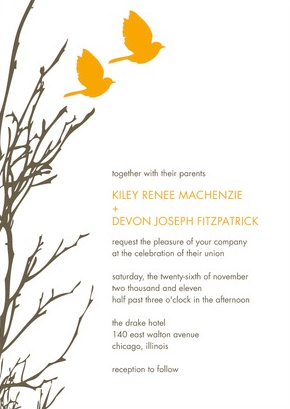 The retro-styled dandelions that Dan thought were "the Millennium Falcon going into hyperdrive"…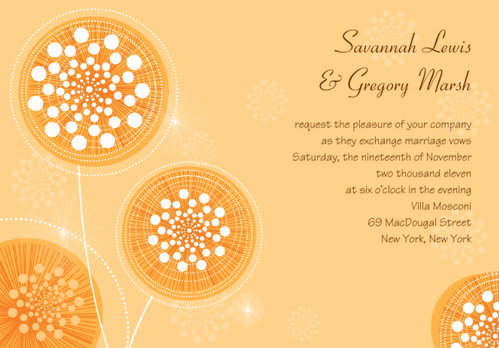 The invitations with gorgeous abstract poppies – perfect for a California wedding – that Dan said were "too much" …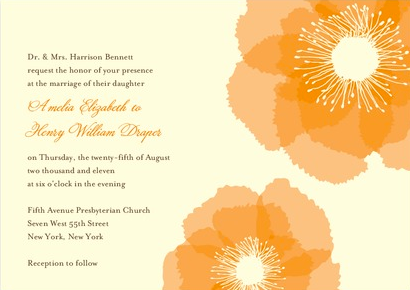 And finally, the modern floral vine invitations to which Dan replied "No. Just … no."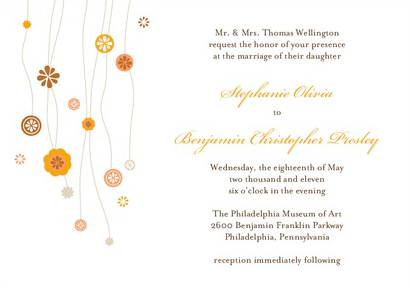 When I informed Dan that he had just vetoed four of my favorite designs, he told me to go ahead and pick whatever I wanted.
WTF. You mean you don't care what the invitations look like? Then why are you vetoing them at all? Haven't you figured out by now that I'm asking for approval only? I don't care about your opinion.
(Just kidding, sweetie. I love you!)
In any case, all four of the above options turned out to be WAY out of our price range, so instead, I opted for a simple fall-themed invitation from VistaPrint that incorporates all of our colors and doesn't bust our budget.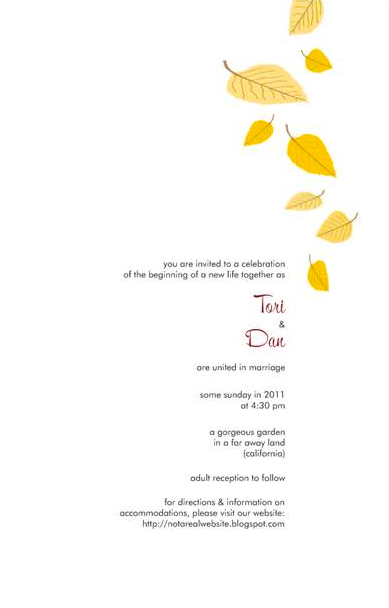 I'm enthralled with the perfect fall theme and the fact that it suits our date, color scheme, and aesthetics so perfectly. I can't believe I have to wait until June to send these out!